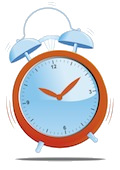 About Author Alarms
The idea is pretty simple. Authors put out new books, and we want to know when that happens. It's easy to know when a big name author releases something, but with the fresh, exciting world of self and indie publishing, it's not always so easy to know when a new author you've discovered puts out a book.
Some authors have mailing lists you can join, and some have Facebook pages or Twitter feeds you can follow. That's cool, and we encourage you to follow your favorite authors if you are interested in knowing all about them. But if you really just want to know when they have a new book that's actually for sale and not that they're almost done with the next book or that their cat is sick again, author alarms are for you.
Pick an author, put in your email address, set an alarm. Done. No signup, no accounts, no passwords. Just a quick message the first time to verify your email address, and you're all set. When you find a book by a new author you really love, set an alarm so you won't miss when the next one comes out. We'll send you a short email when the new book is released.
It really couldn't be simpler.
Oh, and in case you're worried, we won't send you spam. You will only ever hear from us when an author you're watching has a new book. And we won't give your email address to anyone else. We hate spam just as much as you do. Really, we do.