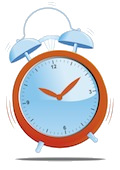 Set An Alarm For Your Favorite Authors
Like to know when you favorite authors have a new book out? Want an email that tells you when they do? Well, you're in the right place!
Just put in your email address and the name of the author you want to get an alarm for and hit the Set Alarm button. That's it! You'll be notified anytime the author puts out a new book. If you're not sure how an author spells their name, just hit the Search button and we'll try to find them for you. You can also search for a book title or series name if that helps.
Recent Releases
Trapped in Time: A Kindred Tales PLUS Novel: Brides of the Kindred
*This is a PLUS length novel--over 100,000 words long***
A woman trapped in the past
A dark, intense warrior who claims she is his wife
Will Caroline survive her stay in the parallel universe she has fallen into?
Or will she be forever...Trapped in Time?

Dr. Caroline Lambert has a PhD in Astro-Temporal Physics but no clue about matters of the heart. Married to her work, she has built a machine called PORTAL, capable of opening a window into other universes. She believes it is only for observation, so imagine her horror when she finds herself sucked through the window and right into a whole other world--a world that seems stuck in the past, around the time of the Victorian era.

Now Caroline must deal with hoop skirts and elaborate etiquette, not to mention all the dangers of the past. It's a minefield of antiquated social mores and poisons used as medicines and cosmetics. But perhaps the most perplexing problem is the husband she has somehow acquired--a tall, dark Blood Kindred named Richard who claims she is his wife and refuses to let her go. For in this universe, the Kindred arrived 200 years earlier than in her own time and they have made their way into polite society...as Richard seems determined to make his way into Caroline's heart.

Will Caroline ever find her way back to her own time and universe? Will she succumb to Richard's charms and give in to the big Blood Kindred who claims her as his own? And what about the scheming mother she has in this world who is determined that she will leave Richard for a Viscount of questionable morals? Caroline doesn't know what to do, she only knows that if she cannot somehow open another window into her own world she will be forever...Trapped in Time.

WOLF BONDED (Finding My Pack Series Book 2)
An Undiscovered Past. A Chance To Start Over. A Throne Waiting For Her To Claim.

When my eyes are closed, all I see are memories. Some are mine, while others are a past I never lived. The shock of death has left me empty, something I should have expected would occur as a fledgling Wolf Omega.

Yet, a new person enters my life, one who was destined to be by my side, one who seems to know me more than I know myself. His presence brings tranquility within my mind and body ? the other men of my life beg to differ.

I'm struggling. There's nothing to hide when you're struggling to identify who you are now and who you were back then, but time is not on my side. I'm sought out for my memories gaining the evidence I need to bring Jasper down in his ruling, but do I want to fight?

To be a lone wolf among other wolves leaves me wishing for a bond. To be Wolf Bonded to the people who will help me have enough strength to tackle the enemies lurking for ultimate power. My only problem is deciding whom to bond with.

Or is it best to run from it all?

For the sake of all that is right, I, Kira Damaris, must break that bonds that chain me.

Fleet Week Fling - A Navy Menage (Something About a Man in Uniform Book 3)
When Sophie Montgomery promises her best friend she?ll be her ?wingwoman? during Fleet Week in San Francisco, she doesn?t have any plans on hooking up with anyone.

But when she meets Navy hunks Cameron Gerard and Kellen Devane, her resolve crumbles. Not only do they look hotter in their uniforms than Alexander Skarsgard in Battleship, but they?re sweet, too. So, when they suggest a threesome with a little bondage thrown in, how can she possibly say no?
Supporting the Troops - An Army Menage (Something About a Man in Uniform Book 1)
Knowing she and her husband, Dylan, won't be able to make love with his Army buddy, fellow Ranger, Carter Erickson, arriving the next day and staying with them for two weeks, Shelby Reynolds surprises Dylan by greeting him at the door naked when he comes home from work. Only Dylan isn?t alone. Carter came in a day early and gets an eyeful of her very nude body. While Shelby is embarrassed, she?s also extremely aroused. She loves Dylan like crazy and shouldn?t be fantasizing about other men, especially his best friend.

As Shelby gives in to her inner exhibitionist, it turns out that Dylan is just as turned on by the idea of a threesome as she is. After all, if a guy can?t share his wife with his best friend, who can he share her with?
The Girl in the Box Series, Books 9-10: Destiny and Power

From Million-Selling Author Robert J. Crane...



Destiny

In the aftermath of her confrontation with Sovereign, Sienna Nealon finds herself low on allies. The organization Century continues their genocide unchecked, working toward an ultimate goal that they have yet to reveal. Sienna must race to find the answers before it's too late, because Century's final attacks are beginning...and if Sienna and her allies fall, there will be no one left to stop them.

Power

Sienna Nealon seems like a woman beaten. Imprisoned by her enemies, facing the extinction of her entire race, she is up against overwhelming odds.

But overwhelming odds have never stopped her before.

In the final volume of the epic Girl in the Box Series, Sienna Nealon must face her fears, face her foes, and then go up against the single most powerful man in the world - Sovereign - in order to save her world from complete and total destruction.
The Girl in the Box Series, Books 7-8: Enemies and Legacy

From Million-Selling Author Robert J. Crane


Enemies

Far from home, having failed in her quest to kill Old Man Winter, Sienna Nealon finds herself in the city of London, working with Omega, her oldest enemies. Surrounded by people she doesn't trust, thrust into events that could mean the extinction of the metahuman race, Sienna will discover that the line between friend and foe is thinner than she ever could have believed - and that her greatest enemies may lie within.

Legacy

Time is running out for Sienna Nealon. The mysterious organization Century is only weeks from wiping out her entire race. But just as Sienna has made the decision to fight them, her past catches up to her and she finds herself in the hands of the U.S. Government. Secrets long buried begin to rise, putting Sienna and everyone she cares about directly in the path of Century...and in a desperate search for the identity of their leader, Sovereign, a man who has plans of his own for Sienna.
The Captain's Dragon (Dragon Knights Book 15)
Right man? right time?

Captain Liam O?Dare finds himself talking with a sea dragon. Not just any sea dragon, but the lord of them all, Skelaroth. The sea dragon brings information and a request to aid in Liam?s decades-long quest to bring the pirate Fisk to justice. Not only is Fisk a murderer many times over, but now he?s stolen a dangerous artifact that could unbalance the entire world. It must be retrieved at any cost. With the mighty sea dragon trailing the wake of his ship, Liam sets out on the pirate?s trail.

Right woman? right man?

Lady Rivka of the Black Dragon Clan, Jinn warrior and huntress, sets out after the pirate, but she?s not a sailor and she needs a cunning seaman with a fast ship to follow where Fisk has gone. Landing on Liam?s ship in her compact black dragon form surprises him, but there?s no other way but to reveal her shapeshifting secret. She gives him the information she has and he agrees to have her help on his quest.

Liam is stunned by the dragon who turns into one of the most compelling women he?s ever seen. She is fierce and no-nonsense when it comes to her quest. He likes that and knows he can work with her. But can he resist the temptation of her? He?s been true to the memory of his late wife for a very long time, but Rivka gets under his skin from almost the first moment he becomes aware of her amazing secret ability to shift from dragon to woman and back again.

A recipe for triumph? or disaster?

When the chase leads from the sea to the land, Liam, Rivka and Skelaroth set out to track the pirate by air. Rivka has the skills, Skelaroth has the strength and Liam knows their prey like no other. Together, they are unstoppable - until they come face to face with evil magic being used against them. In the final battle, it will take all three of them - plus the help of a mysterious virkin friend. Will they prevail? Will Liam find his justice and the missing artifact? And will Liam and Rivka have a chance at a future of love and joy? Or, will it all turn to fiery dragon ash before their very eyes?
One More Thing: 47 Thing Sequel (47 Things Book 2)
I never asked to slip on a piece of gum then fall in love with a man who would die before the ink was dry on our marriage certificate.
But that's what fate had in store for me. It broke me. I vowed I'd never fall in love again.
Five years later, fate had one more thing planned. It wanted to play around in my life again. Its tool? Another blasted stick of gum. Same place, only this time, it was Jude Baker, a university lecturer, who slipped on the gum.
Despite being a pacifist, Jude wasn't particularly happy about having gum stuck to his shoe and made his distaste abundantly clear.
But that stick of gum was the catalyst to a series of events where our paths would continue to cross. There would be a broken nose, a fractured hand, a cat on a lead and a crashed corporate Christmas party that would align our hearts and make me realise that I wanted to be happy again.
But there would also be tears. Many, many tears. Because falling in love was never easy, especially when you were still in love with another man.
Mastermind (Titan Online #1) - A Superhero LitRPG Story
Karna was just like any other comic book fan. He dreamed of fighting alongside colorful heroes and taking down dastardly villains. In Titan Online, the most popular VR MMORPG going, he finally got the chance to live out his cape-donning fantasies. 


That is, right up until he was killed by the game's number one 'hero'. A man who serves only himself in a constant grind for money, fame and adoration. Forced to start from scratch due the harsh game mechanics, Karna finds a new mission; bringing balance back to Titan Online. 


With a strange new power and some unlikely allies, Karna hatches a plan to save the game, and get a bit of revenge in the process. 


When the heroes can't be trusted, it's up to the villains to save the (virtual) world.
Coincidência Inesperada (Uma Aventura de Mycroft Holmes Book 2)
O segundo livro na série sobre as aventuras de Mycroft Holmes.

Amelia Jones havia destruído a serenidade da vida de Mycroft mas, por alguma razão, ele estava feliz. Apesar de ser uma mulher, ela podia controlar suas emoções e tanto amava aprender que ele gostava de ensiná-la, mas ela não era perfeita, e Mycroft não estava acostumado com pessoas que cometiam erros.

Passando tempo com os irmãos Holmes trazia perigos e Amelia estava ciente disto, mas quando as ameaças chegavam por causa de seu próprio trabalho, ela não sabia o que fazer. Será que ela poderá manter Mycroft feliz com seu progresso, e, ao mesmo tempo, manter-se segura?
Dragons' Prize: Fantasy Paranormal Dragon Romance (Nightflame Dragons Book 4)
**Grab this sexy story in the Dragonflame Series and fall in love with two dragon warriors**

Reagan Brooks hopes that being a surrogate on planet Daeria will end the violence in her life. Earth gave her nothing but pain and she needed a fresh start. Except, now that she's there, she questions if this was the right decision for her. She doubted the massive alphas were the right men for her. Too late to change her mind. Time to sink or swim.

Ryse and Brazen, dragon shifter enforcers for the king, want a mate they can love and cherish and are willing to wait forever for her. When Ryse comes home with Reagan in tow, Brazen is caught off guard and wary. She?s beautiful and perfect, but haunted. She?s closed off her heart and refuses to trust. He?s not sure they?ll ever reach her.

Ryse and Brazen do their best to show Reagan they love her and will never hurt her. But her past won?t let her accept their love, no matter how hard she tries to put it behind her. When her mates are taken from her, it?s time for Reagan to fight or lose the love she dreamed of. A love she never truly believed she?d find in a planet full of predators.
Random Thoughts: A Love Story
This book commemorates the fiftieth Wedding Anniversary of Joel & Roxane Baker. It relates what it was like to grow up in the fifties and the memories of a loving marriage.
Semper Fine - A Marine Corps Menage (Something About a Man in Uniform Book 2)
Delaney Shaw is stunned to discover her high school crush Colt Baxter is the best man at a wedding where she?s the maid of honor. Too shy to ever come on to him back then, she doesn?t intend to make the same mistake now. There?s only one problem. She?s just as attracted to his friend and fellow Marine, Jagger Cruz.

Not wanting to come between them, Delaney decides not to make a play for either one. But when it turns out that in between them is exactly where Colt and Jagger want her, she gives in to her desire to be the center of a hunky Marine sandwich.
La Jolla Law (Thaddeus Murfee Legal Thrillers Book 12)
A California beach town, a murder at a Presidential reception, a detective who finds herself in hot water for sexual harassment...

Add to the mix a gifted boy band traveling cross-country and a tech billionaire who functions on cocaine with a plastic wife who refuses to return home from Paris where her lover does hair for Vogue. Now you have the opening chapters of La Jolla Law, the new series featuring attorney Thaddeus Murfee.

The Maseratis pull over when the President of the United States comes to town to kickoff his reelection campaign. Unfortunately, he has chosen the home of the tech billionaire to spend the night. Suddenly, that night erupts with police streaming through the doors. There, on the golden shoreline, a true American tragedy hits CNN at daybreak. Thaddeus is called into the rock-and-roll world of the beach dwellers when a gifted loner is accused of the crime.

Thaddeus arrives in Southern California thinking he's already seen everything in his fifteen years of law practice.

La Jolla Law will show him just how wrong he is.

John Ellsworth is a Goodreads writer with over 50,000 ratings and a USA Today Bestseller and a Kindle All-Star.

Grab your preorder now at this reduced price!

AMAZON HAS SAID, "WE ARE INSPIRED BY THE SUCCESS OF THIS WRITER AND HOW HE IS DELIGHTING READERS"--AMAZON PRESS RELEASE 10/15/18
The Unlikely Heroes (Unstoppable Liv Beaufont Book 10)

Magic is real.

Most mortals are seeing it for the first time.  

Some don?t deal with change very well.

There are a few mortals who have always seen the magic. Those are the ones Liv Beaufont is hunting down. They are potentially one of the Mortal Seven.

Kayla Sinclair is also on the hunt. But she?s aiming to kill.

It?s a race to find the Mortal Seven before they are murdered. And meanwhile, there?s another crime that needs Liv?s attention.

Someone wants Father Time dead and they?ll do anything to draw him out of hiding. ?



Rescuing the Single Dad: (Clean Contemporary Texas Hill Country Romance) (PAWS for Romance Book 1)
Will Erin and Jason find their "forever homes" in each other's hearts?

As the director of PAWS, the ?Pearson Animal Welfare Society,? Erin Pearson stays busy helping stray and surrendered pets find the ?forever homes? they deserve. The small-town animal shelter was the life?s work of her beloved grandmother, but when a million-dollar donation to a new building project is embezzled, Erin fears the scandal will be the end of PAWS.

The drive up from San Antonio to the beautiful Texas Hill County to adopt a dog for his daughter is no more than an inconvenience for financial advisor and single dad, Jason Blaine. That is, until he meets the lovely director of PAWS. When Erin later asks for his help in tracking down the consultant who made off with the donation, Jason couldn?t say no even if he wanted to. Erin is warm and approachable? everything his late wife Valerie wasn?t. But Jason is sure that Valerie?s wealthy parents won?t hesitate to sue for custody of their granddaughter if he starts dating again and not devoting every spare minute to being a dad.

Will Erin and Jason track down the missing million in time to save PAWS and her family?s good name? Caught between the fear of losing his little girl and the hope of a promising new romance, will Jason allow Erin to rescue him, too, even though he only has two legs instead of four?

Rescuing the Single Dad is book #1 in the clean contemporary romance series, PAWS for Romance. Book #2, Catering to Love is coming soon.
Beginnings: Five Series Starters
Five full series starters by award-winning author Patty Jansen.

This set contains:

Ambassador 1: Seeing Red - On the eve of starting his new job as Earth?s representative at the Interplanetary Assembly, a political murder catches Cory Wilson on the wrong planet and surrounded by hostile people. Yet, he?s the only one who can solve the crime.

Fire & Ice: In his hunger to return his family to power in the City of Glass, Sorcerer Tandor unleashes an evil power he can?t control.

Watcher?s Web: Jessica?s plane crashes in alien jungle. The only other surviving passenger knows far too much about the alien world where they?ve landed. He says he?ll help her, but what does he really want?

Innocence Lost: All Johanna wanted was to take over her father?s business as river trader. She got a mad prince, demons, ghosts and a kingdom in debt.

Charlotte?s Army: Seven thousand artificial human soldiers are in a space fleet, hurtling to a far-flung war. When they start misbehaving, doctor Charlotte West races against time to find out what?s wrong with them.
Satanic Serial Killer
Dominic Denver wasn?t right in the head. As a narcissistic sociopath, he wanted to live forever but just couldn?t imagine the world going on without him. Dominic makes a deal with the Devil for immortality.

Except, the deal involves the spilling of blood. Dominic accepts the deal and gleefully claims dozens of victims. When he?s finally arrested and put to death, his reign of terror finally comes to an end. Or does it?
Street Cultivation
In the modern world, qi is money.

The days of traveling martial artists and mountaintop masters are over. Power is controlled by corporations, modernized martial arts sects, and governments. Those at the bottom of society struggle as second class citizens in a world in which power is a commodity.

Rick is a young fighter in this world. He doesn't dream of immortality or becoming the strongest, just of building a better life for himself and his sister, who suffers from a spiritual illness. Unfortunately, life isn't that easy...
King of Hearts
Up and coming reporter, Lettie McBride, couldn?t believe it when she got the professional opportunity of a lifetime ? a one-on-one, multi-day sit down interview with the famously media shy King Alek of Keynn. He?d asked for her by name, sent his private jet to pick her up, and was letting her stay at the palace with him! This could make her career.

Alek is everything she?d hoped he?d be, and more: strong, charming, eloquent, and commanding. But he is also the target of an assassination attempt. Lettie gets more ? much more ? than she bargained for when she accepted this assignment: underground bunkers, guns, crowds cheering her name? and a sexy man who wants to be her King of Hearts!

Publisher's Note: This steamy love story contains elements of power exchange.

Bolo: The Annals of the Dinochrome Brigade
As the concept of intelligent fighting machines developed, the Bolo division of General Motors started working on tank designs that incorporated awareness and intelligence within the development of their tactical tanks.

With each new generation, these awesome fighting machines become more self-aware, with capabilities not only matching their human controllers, but often surpassing them.

This collection of action-packed stories lets the Bolo war machines speak for themselves as they hunt and destroy all who stands in their way. But beyond the action itself, these stories speak to us all on a very human level ? about the far-reaching, and often tragic, consequences of our actions.

The Dao of Magic: Book III
A sea of savage beasts. An ancient order of mages. A looming cataclysm.

Now that Drew has become even more powerful by stepping into the Foundation Realm, new challenges await him. He is quietly growing his school and sect, and allowing his students to recruit whoever they want so he can take it easy.

Trouble looms as his old mistakes come back to haunt him. The entire planet is about to be sent down a savage and unforgiving path, and it might be his fault. Monsters are popping up everywhere, packs of deadly animals led by terrible mutants. The worst part? They seem to be steered by some higher power, some nefarious being that holds the reins of the planet.

His students have turned from bright-eyed, eager learners? into lazy good-for-nothings. Whoops. It seemed he was too influential in their development. Teach now has to spend large amounts of time crafting gear for all the new recruits, and the rising tensions are giving him a headache.

Teach might just decide to end them all. He had a fresh start once? maybe he should try again?
Rescue Me - An Air Force Menage (Something About a Man in Uniform Book 4)
When Kayleigh Ellis gets stranded in a ditch on the side of the road during a storm, she?s sure she and her cat are in deep trouble. But luckily Air Force Pararescue Jumpers, Austin Fuller and Kyle Larsen, show up just in time, giving her and her cat a ride home.

Wanting to thank them for their help, Kayleigh invites them to stay for dinner. Austin and Kyle don?t want to put her to any trouble, but she insists. And while the dinner is delicious, Austin and Kyle are more interested in dessert, particularly if Kayleigh is on the menu.
Don't Scream: 120 Tales of Terror

I picked up a hitchhiker.

Now I?m not sure I?ll get home alive.

I finally bought my own Airpods. I hear something terrifying when I wear them.

How will you die? Dr. Atwell knows. He knows how everyone will die, even the ones he won't kill himself.


DON?T SCREAM and SHADOW ON THE STAIRS bring you 120 terrifying tales for your darkest nights. This collection has every flavor of horror, from heinous murders to secret rooms, from sinister virtual realities to unexplained mysteries.

br>

Includes DON'T SCREAM, SHADOW ON THE STAIRS, and 5 bonus stories!




Praise for Don't Scream & Shadow on the Stairs

"This book is fantastic. It has a terrifying blend of realistic and supernatural horror."

"Don't Scream is a book you don't want to read in the dark."

"I devoured it in a day and a half. Blair's writing is in that perfect Goldilocks zone where it's accessible and easy to read but not dumbed-down or too simple. I got chills more than once reading this!"


"Blair has the incredible ability to weave the most mundane passing thoughts into creepy nightmares. She does this without evocative shock and gore and instead builds imagery and cadence that lead you there. She manages to build a world of existential dread that is not too unlike our own and doesn't waste time."


"5/5 stars, must read for every horror fan."

Second Treatise of Government
Two Treatises of Government (or Two Treatises of Government: In the Former, The False Principles, and Foundation of Sir Robert Filmer, and His Followers, Are Detected and Overthrown. The Latter Is an Essay Concerning The True Original, Extent, and End of Civil Government) is a work of political philosophy published anonymously in 1689 by John Locke. The First Treatise attacks patriarchalism in the form of sentence-by-sentence refutation of Robert Filmer's Patriarcha, while the Second Treatise outlines Locke's ideas for a more civilized society based on natural rights and contract theory.
This publication contrasts former political works by Locke himself. In Two Tracts on Government, written in 1660, Locke defends a very conservative position; however, Locke never published it.[1] In 1669, Locke co-authored the Fundamental Constitutions of Carolina, which endorses aristocracy, slavery and serfdom. Although some dispute the extent to which the Fundamental Constitutions of Carolina portray Locke's own philosophy, vs. that of the Lord proprietors of the colony. The document was a legal document written for and signed and sealed by the eight Lord proprietors to whom Charles II had granted the colony; Locke was only a paid secretary. He wrote it much as a lawyer writes a will.
.

A Game of Chance
Undercover agent Chance Mackenzie knew that the best way to capture an elusive terrorist was to use the man's daughter as bait, so he cleverly seduced Sunny Miller and set out to discover her father's whereabouts. Sunny's own innocence was questionable, and gaining her trust was nearly impossible. And even with all his experience and training, Chance found it difficult to overlook her beauty.

However, Chance soon realized that Sunny wasn't running from him - she was running for her life, and she needed Chance's protection. But keeping Sunny safe would involve telling her the truth - about his mission and what she'd done to his heart.

This is a first-time regular print hardcover edition of a title previously available as a mass market paperback.