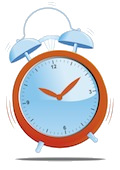 Set An Alarm For Your Favorite Authors
Like to know when you favorite authors have a new book out? Want an email that tells you when they do? Well, you're in the right place!
Just put in your email address and the name of the author you want to get an alarm for and hit the Set Alarm button. That's it! You'll be notified anytime the author puts out a new book. If you're not sure how an author spells their name, just hit the Search button and we'll try to find them for you. You can also search for a book title or series name if that helps.