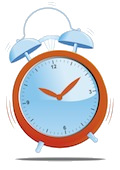 Set An Alarm For Your Favorite Authors
Like to know when you favorite authors have a new book out? Want an email that tells you when they do? Well, you're in the right place!
Just put in your email address and the name of the author you want to get an alarm for and hit the Set Alarm button. That's it! You'll be notified anytime the author puts out a new book. If you're not sure how an author spells their name, just hit the Search button and we'll try to find them for you. You can also search for a book title or series name if that helps.
Recent Releases
New Year, New Omega: M/M Non Shifter MPreg Romance (Omega For Hire Book 5)
Devin has been working as an escort at Omega for Hire for a long time. Too long, some might say.

He loves his job, but even he has started to wonder how long he'll be able to keep up his role as arm candy for powerful alphas.

When one of his most successful clients cancels on him two days before New Year's Eve, Devin's left wondering if his time in the limelight is over.

Solomon's overseas trip for his father's company was a rousing success, and he gets home just in time to attend a New Year's Eve party hosted by one of his best friends. But as a young, successful alpha, Sol can't be seen in public without someone on his arm.

His pride won't allow it.

When his little black book of conquests fails him, he turns to Omega for Hire, only to find that nearly all their omegas are booked solid. Thankfully, there's one omega with a last minute cancellation who happens to fit the bill.

New Year, New Omega is a sweet and sexy story about bringing in the new year with a knotty alpha and his heated omega. You'll smile and swoon and fall in love with these two and their bundle of joy.
On the Naughty List: Nine Naughty Novels to Heat up your Holidays
On the Naughty List
Contains 9 Naughty Tales to Heat up your Holidays

The Bargain (formerly published as Charlie's Bargain)*exclusive to this box set*
Kidnapped for Christmas
Cougar Christmas
Season's Spankings
Anyone U Want
Madeline's Mates
Crimson Debt
Claimed
Abducted

The Bargain--***(Formerly Charlie's Bargain. Exclusive re-release--only available in On the Naughty List)***When Charlie is forced to make a deal with the elusive Lynx in order to cover her little brother's gambling debts, she gets much more than she Bargained for...

Kidnapped for Christmas--a case of Mistaken Identity leads to one Hot Holiday for plus-sized and practical Jillian Marks...

Cougar Christmas-- What do you get when you add one sexy, unobtainable, ice-cold boss to one sexy, muscular, frustrated assistant pretending to be her husband?

Season's Spankings-- Lucinda ?Lucky? Starr only wants one present for Christmas-her boss. Unfortunately, the cool and collected Eric Payne refuses to act on their mutual feelings no matter how much she provokes him. Then she discovers a mysterious perfume shop and buys a concoction guaranteed to release suppressed emotions...

Anyone U Want--Holly Sparks wants to be dominated by her boss and a business trip to the Moon seems like the perfect place for her fantasy to come true--she can hire an android who looks just like him. But what happens when her boss finds out? After all, who needs an android when you can have the real thing?

Madeline's Mates-- Madeline Grant leads a lonely existence. But all that is about to change. One snowy night, a huge man with piercing blue eyes comes into the ER where Maddy works. He takes one look at her and tells her she?s about to go into heat. Maddy thinks he?s crazy?until his strange predictions begin to come true. Now, thrown into the dark and dangerous world of shifter taboos, Maddy must decide whether to follow her head or her heart as she tries to survive the Christmas heat.

Crimson Debt--(Book 1 in the Born to Darkness series.)
A tough-as-nails Vampire Auditor should never let herself be Bonded to a Master Vamp. I mean, they?re the enemy?right? Addison Godwin is in so much trouble...



Claimed--(Book 1 in the Brides of the Kindred series)
A race of Alien Warriors from beyond the stars
Three very different types of men
All looking for one thing?their brides
Olivia Waterhouse is about to be Claimed...

Abducted--(Book 1 in the Alien Mate Index series)
Zoe McKinley has a boring life, an awful job, and a boss that throws staplers at her head. What could be worse?
How about being abducted by Aliens?


Taboo Foreign Exchange: Part Two (An Asian Step Harem Fantasy) (Taboo Exchange Book 2)
Read Part Two of the kinky exchange student fantasy!
A Taboo Step Harem For Their American Exchange Student!

It was the mid 90's and Blake had everything going for him back home. However, star athlete and top student weren't enough for his parent though. They wanted him to experience another culture and the only one his school's program would send him to was Japan.

Himiko was a poor young model when she married a man who wanted nothing to do with her. She never really connected with her two stepdaughters Yui and Mina, but soon finds that they have more in common than she would have ever guessed. Within this woman of the house is a sleeping tiger of lust, just waiting to be unleashed.

Just how many MILF's and pretty young women of the house will throw themselves at our young hero's... feet?

This is a taboo harem story that sets the scene and builds to a throbbing crescendo!

Savannah Martin Mysteries Box Set 16-18: Wrongful Termination, Conflict of Interest, Right of Redemption (Savannah Martin Mysteries Boxset Book 6)
Savannah Martin has always been a good girl, doing what was expected and fully expecting life to fall into place in its turn. But when her perfect husband turns out to be a lying, cheating slimeball?and bad in bed to boot?Savannah kicks the jerk to the curb and embarks on life on her own terms. With a new apartment, a new career, and a brand new outlook on life, she?s all set to take the world by storm.

If only the world would stop throwing her curveballs...

Box set includes the following 3 books:

WRONGFUL TERMINATION ? #16

When Savannah?s husband Rafe loses his position with the Tennessee Bureau of Investigations, Savannah gets excited about the prospect of them taking their new baby and moving back to their hometown of Sweetwater. Rafe has already received a job offer from the Columbia Police Department, and although he doesn?t seem terribly interested in accepting, Savannah would enjoy having her family around, not to mention Rafe?s grandmother Mrs. Jenkins.

But before they can make any decisions, Rafe?s former boss at the TBI turns up dead. And Rick Goins, the MNPD detective in charge, seems determined to prove that Rafe had something to do with it.

Detective Tamara Grimaldi, former colleague of Goins and now Chief of Police for Columbia, swears that while it might take him some time, Goins usually comes up with the right solution in the end. But with fresh victims dropping like flies, and someone seemingly doing their best to fan the flames of Goins?s biases, Savannah isn?t sure she can wait for the detective to come to his senses. Because while she?d like to move back to Sweetwater, she doesn?t want it to be because her husband is behind bars?

CONFLICT OF INTEREST ? #17

Savannah is delighted to be back in her hometown of Sweetwater, surrounded by family and friends, even if it?s only temporarily. The house in Nashville is in the process of being repaired after the fire. Baby Caroline is alive and well and getting bigger every day. And Rafe is all recovered, and is working for Tamara Grimaldi and the Columbia PD, at least for the time being. That probably won?t last, but for now, Savannah?s content.

There are flies in the ointment, however. Savannah?s best friend from high school is back in town, and seems to be setting her cap for Savannah?s brother Dix. Savannah has been rooting for Dix and Tamara Grimaldi to get together, and this new development doesn?t make her happy. Sure, she loves Charlotte? but Charlotte already has a husband, and shouldn?t need another one. She especially shouldn?t need Dix, not when Savannah wants Grimaldi to have him.

And then there?s the case Rafe is working on. With another Martin on the hot-seat, and Rafe and Grimaldi duty-bound to serve the law, it?s up to Savannah to keep her family safe and out of prison.

RIGHT OF REDEMPTION - #18

When Savannah and her best friend Charlotte decide to flip a foreclosed property in nearby Columbia, they talk Savannah?s sister Darcy into putting up the money for the renovations, and go to work.

But no sooner have they ripped up the carpet and torn out the kitchen cabinets, than the previous owner shows up and invokes his statutory right of redemption. After four years in prison for a crime he says he didn?t commit, he?s back in town to clear his name, and he wants his house back. And according to Savannah?s legal-eagle brother Dix, there?s nothing anyone can do to stop him.

Until someone drops him in his tracks, with a murder weapon that has Charlotte?s fingerprints all over it.

Savannah?s husband Rafe has his hands full at the local PD, so the murder investigation falls on another detective, one who doesn?t share Savannah?s conviction that Charlotte wouldn?t hurt a fly. But when Savannah decides to do some investigating of her own, it soon becomes clear that there?s more to this flipping fiasco than meets the eye?

An Open Window
Two men. One Christmas Eve that changes the courses of both their lives.

Henry?s homeless and only wants a warm place to sleep on the coldest night of the year. A forgotten open window in a darkened house entices him inside with the promise of warmth and comfort. He knows it?s wrong, but he promises himself he?ll be out before the owner wakes on Christmas morning.

Except he oversleeps and the homeowner, Jim, discovers a bearded stranger sawing logs under his dining room table. When the shock and the drama that ensues dies down, Henry and Jim discover they might have found, quite unexpectedly, the Christmas miracle they?d both been longing for -- love and home.
Hood Supreme
It?s always been said that Chicago is one of the most corrupt cities in the nation.
From the beginning of time criminals have partnered with political figures in an effort to retain control. These partnerships have kept criminals a step ahead of the law and politicians richer.
Team Supreme is a criminal organization that has done just that.
Meet Givenchy, Prada, and Fendi Alexander. With the help of their OG grandmother Ms. Gladys they?ve become a force to be reckoned with on the streets of Chicago.
Their political connections have helped them to solidify themselves as the Upper Echelon of crime families.
Their love for the street life has overshadowed the importance of building their own families.
Enters Miyani and Gavin Mills. The neglected daughters of Malcolm Mills the Mayor of Chicago. Their father is knee deep in criminal activities with the Alexander Crime Family. With their friend Dream Brooks along for the ride the women find themselves torn between family and love.
Follow these criminal and political families as war is waged in the streets that can only end with bloodshed and broken hearts.
Skeptic in a Skirt (Love Ever After Book 2)
Fairy tales are for suckers...aren't they?

Beth hasn't believed in magic since she was a small child. Meeting her very own wand-wielding fairy godmother doesn't change her mind. While she's always hoped for a special someone, she's pretty darn sure he won't be delivered by a delusional woman waving a wand.

Enter Edward, the man who lives in Beth's dreams. The ideal man. Perfectly handsome, perfectly kind, perfectly yummy smelling--perfectly not from this century.

Edward wants to believe in the helping hand of a magical fairy. He certainly believes Beth is his One True Love.
Heat Seeker (Jake Mudd Adventures Book 2)

Sometimes the only way out is into the fire.


Jake tracks down forces that have been hunting him for years, so he can end his life of running.

But they knew he was coming.

~
A former mercenary turned galactic cargo runner tries to get by and lay low with the crew of his A.I. space ship. But his conscience, questionable choices, and bad luck thrust him into the thick of trouble more than he?d like. And all too often, enemies hellbent on settling old scores make staying alive even harder.

It?s Firefly meets Jack Reacher meets Flash Gordon.

The Anime Trope System: Stone vs. Viper, #14 a LitRPG (ATS)
Slice of life, training, and even a visit from the Queen of Hearts. What?s more to like for some downtime?

Well?there is the Disciple, the dragon woman who led the charge against the Kitsune Clan. This volume uses slice of life to build up to what will eventually be a god vs. god fight. What happens when Harumi gets incredibly angry?


Clyde and his party return in December 2019?s issue, bringing the humor and fun, ass-kicking, and the rising from weak to completely unstoppable. Read it FOR HARUMI!

Book edited by Adam Luopa, new series editor!
Bookcover and character art illustrated by Worakit Chusanachoti (StarbowNext)


Warning:
This novel contains sexual content, sex scenes, and sexual humor fit for anime fans. You have been warned. Not for the faintest of hearts.

Next episode: Volume 15: Darkened Hour. The Stone vs. the Punishment Squad.


A Guide to Stirling Castle
Castles can help bring history to life, and Stirling Castle has a story to tell! This book outlines the history of the castle, and its place in Scotland's often turbulent and sometimes heroic history. It goes on to outline a tour of the castle for the visitor, and also to describe some nearby historic sites. If you are considering visiting Stirling, or are just interested in Scotland's history, this book has been written for you.
The book is based on the Stirling section of the author?s book ?Scotland?s Great Lowland Castles?.
The author has also written:
-Mary Queen of Scots: A Brief History
-Exploring History in the Scottish Borders.
Ashton's Adventures: Jungle journey
Ashton?s Adventures is a book series which endeavours to help make daily and bed time routines smooth for parents with toddlers. Ashton?s Adventures series aims to entertain kids and assist with developing vocabulary.
Warriors: Spinward Fringe Broadcast 13
The invasion has changed everything for Haven Fleet and the citizens they protect. More than ever the Order of Eden seems to be everywhere, hanging over our heroes like a menacing cloud as they face new challenges and try to keep the fleet from falling apart.
Alice approaches a resistance group with the best intentions and is confronted by complications. Haven Fleet is faced with the unknown while Ayan and her allies try to keep the fleet together. Meanwhile the Haven Solar System is under Order of Eden occupation and the rule of Lucius Wheeler, their oldest surviving enemy. Every surviving character faces their own challenges as the survival of the entire fleet is threatened.
Reclaiming the Magic: An Urban Fantasy romance (Brides of Prophecy Book 7)
Vampire society knows him as the Thirteenth Elder first vampire in creation, the mages know him as an immortal high sorcerer and the Keeper of the Prophecy.

Delgarias Dullahan only cares about the woman who knew him simply as "Del." Two thousand years ago, he gambled his soul for the power to marry Nikkita Leonine...and lost. Now he is finally on her trail.

But Del is not the only one searching for the missing luminite princess, and whoever finds her first will have the upper hand in the battle against the greatest evil ever known.
Copycat Recipes: Making Red Lobster's Most Popular Recipes at Home (Famous Restaurant Copycat Cookbookss Book 7)

Prepare your favorite Red Lobster's fish and seafood dishes at home with easy to make copycat recipes!

Download FREE with Kindle Unlimited



For more than 50 years, Red Lobster has been serving customers great fish and seafood meals at reasonable prices. From crab legs and lobster tails to their world-famous Cheddar Bay Biscuits, families have been enjoying their favorite dishes at this much-loved restaurant for generations. They know they can count on Red Lobster to consistently deliver a quality meal and they?re sometimes hesitant to prepare seafood at home and would rather rely on a restaurant to prepare safe, tasty seafood meals.

But making these meals yourself is entirely possible! This illustrated cookbook brings you recipes inspired by Red Lobster?s menu. These copycat recipes have been created to replicate your favorites at home.

Inside, you?ll find:
?Heartwarming soup and salad recipes such as the Lobster Bisque and the Shrimp Gumbo
?Tasty appetizer recipes like the Crab Cakes and the Lobster Fondue
?Side recipes such as the famous Cheddar Bay Biscuits and the White Cheddar Mashed Potatoes with Lobster
?Fulfilling lobster entrees such as the Broiled Lobster Tails and the Lobster Pizza
?Bountiful crab entrees such as the Crab Linguini Alfredo and the Snow Crab Legs
?Satisfying shrimp and scallop entrees like the Shrimp Linguini and the Bacon Wrapped Scallops
?Wholesome fish entrees such as the Parmesan Crusted Tilapia and the Salmon New Orleans
?Awesome mussel and clam recipes like the Mussels Marinara and the Steamed Clams
?Delightful chicken entrees such as the Aztec Chicken and the Cajun Chicken Pasta
?Luscious dessert recipes like the Lava Cake and the Chocolate chip Lava Cookie and the Vanilla Bean Cheesecake
?Refreshing drink recipes such as the Sunset Passion Piña Colada

Recipes come with a beautiful image, a detailed list of ingredients, cooking and preparation times, number of servings, and easy to follow step-by-step instructions.

Read on your favorite devices such as Kindle, iPhone, iPad, Android cellular phone, tablet, laptop, or computer with Amazon's free reading Kindle App.



Let?s get started! Scroll back up and click the BUY NOW button at the top right side of this page for an immediate download!
Carrie Hatchett's Christmas - A Christmas Story Collection

If you like Doctor Who, you'll love Carrie Hatchett's Christmas adventures

Carrie Hatchett?s Christmas

It?s Christmas! The alien invasion has begun.

Aliens have been spotted at Santa?s Grotto and in a pantomime. Will Carrie find them in time and send them packing before they ruin everyone?s Christmas?

A Very Carrie Christmas

Something strange is happening in Lapland.

The Northern Lights haven?t shown up for months, which means tourist numbers are down and the livelihoods of the local Sami people are under threat.

Only aliens can be responsible, and as a Transgalactic Intercultural Community Crisis Liaison Officer, it?s up to Carrie Hatchett to find out who they are.

Carrie?s Christmas Adventures in Oz

Something?s wrong down under.

An illegal operation of a transgalactic gateway threatens to spoil Carrie?s Christmas?until she discovers she?ll be spending the holiday in sunny Australia.

But can she spot the unauthorized visitor from outer space among all the weird and wonderful Aussie wildlife?
Ryder (A Dogs of Fire Story Book 1)
My search is my singular focus.
I don?t have time for distractions.

Then she walks into my world without warning and I am suddenly lost.

But I won?t yield.
Not to her, not to anyone.

However, I will have her, and I will have her despite her innocence

If All Else Fails (The Kurtherian Endgame - Out Of Time Book 2)

Just how much trouble CAN two teenagers get into, anyway?

Their parents will find out.

Alexis? and Gabriel's childhood ends in violence, but what else would you expect from Bethany Anne?s children?

Zenith station offers the lessons. Conquering the curriculum may be easy. Being true to yourself? 

Not so much.

Now the twins must risk it all to save the innocent.

A great philosopher once said, "With great power comes great responsibility."

The twins reply? "Nobody needed that battlestation, right?"

Go up and click Buy Now or Read for Free and jump back into the action!


NOTE: This book contains a bit of cursing. Perhaps humorous cursing, but cursing, nevertheless. If this offends you, we don't suggest reading this book.



Cold War: Alien Exile

Alien DNA infected her body. But will her dual nature be the only thing that saves her snow-encrusted world?

Cam Alvarez still clings to her last shred of humanity. Desperate to keep the rescued alien hybrids alive in her remote polar exile, she struggles with failing stasis tubes and subzero Arctic conditions. But she questions her compassion when the Ringhead hive queen she imprisoned escapes and rains down terror on Earth.

As the alien Mother maneuvers towards Alvarez?s old base, she?s torn between her duty to protect her former soldiers, and the needs of her defenseless charges facing an icy demise. But with alien zombie hordes surging, she may have no choice but to embrace her hated genetic powers to save Earth?

Will Lieutenant Alvarez defeat the powerful invaders before they twist her planet into a frozen graveyard?

Cold War: Alien Exile is the second book in a riveting military sci-fi series. If you like determined heroines, futuristic battles, and page-turning tension, then you?ll love Julia Vee?s thrilling novel.

Buy Cold War: Alien Exile to turn up the heat on a fast-paced adventure today!
Brownie Oxford and the Riverview Revenge
Still reeling from her abduction and escape from the rogue Agent Halloran, Brownie Oxford, still living as Bonnie Brown must resume her disguise and pretend that all is normal while she deals with the aftermath. What will happen when Steve and Swift finish dealing with the dead? What will happen to the symbol carved body of Dr. Harding? What havoc will a freed Mesopotamian demon do? Who can she trust? Who must she fear? And more importantly, can she maintain her normalcy through her scheduled date with Tom when no one seems to be who they say they are?
Phobia
This killers greatest strength will be your greatest fear...

Detective Sergeant Honor McVey is returning to work after six months stress-leave from the City of London Police. A bizarre suicide is her first catch, but it's not long before she realises that the death is anything but a suicide.

Thrown headlong into a terrifying game of cat and mouse with a killer who seems able to move without detection, Honor finds herself chasing a murderer like no other - one who kills his victims by exposing them to their greatest fears.

As the body count begins to climb, Honor finds herself exposed to her own terrors, as one by one the killer hunts down anybody who tries to identify them. And then they up the stakes again. Now, you're not just going to die from your greatest phobia - the rest of the world is going to watch your demise, live. If you've ever wondered what it would be like to be scared to death, literally, you're about to find out...


REVIEW

Praise for Dean Crawford:

"The fossilized remains of a 7,000-year-old creature dug from the sands of the Negev Desert in Israel become the bones of contention in Dean Crawford's fast-paced debut thriller... The book neatly threads together a wild variety of plotlines." - Wall Street Journal

?? cleverly introduced premise? assured pacing and plotting?? - Publishers Weekly

?The action is frenetic, in the vein of Matthew Reilly?s Scarecrow series. Crawford is an able storyteller who smoothly orchestrates the plot?s twists and turns? ? ? Kirkus Reviews

?? brilliant high-concept, high-octane thriller?.? - The Guardian

"A fast-paced and entertaining yarn." - Melbourne Age

"Partly mythical read, part thriller this pacy tale is a page turner guaranteed to keep you up late." - The Sun

"Get the cameras rolling?Indiana Jones meets Alien. What a combination of mystery, suspense, and unspeakable horror. I loved it!" - R.L. Stine

?This is an amazingly good, intelligently told novel by an exciting new British author.? - Eurocrime

"Earth-shattering intrigue, hyperdrive action and a desperate race to save humanity, cranked up to the max with scarily realistic science and apocalyptic religion thrown in for good measure . . . a major new talent has hit the mystery thriller scene!" - Scott Mariani

ABOUT THE AUTHOR

Dean Crawford began writing after his dream of becoming a fighter pilot in the Royal Air Force was curtailed when he failed their stringent sight tests. His Ethan Warner series of high-concept novels have regularly featured on the Sunday Times paperback bestseller list and have sold all over the world. A full-time author, he lives with his partner and daughter in Surrey.

How to Get Your Shit Together: A Guide
How to get your shit together in adulthood. Lost? Depressed? Unemployed? Poor? Get your mental health in order, build confidence, and work on yourself. Life doesn't need to be that hard.
Dangerous Proposal (Aegis Series)
From NYT Bestselling Author Elisabeth Naughton, a deadly story in her Aegis series.

A film that could make her career?
America?s sweetheart, Avery Scott, is up for the biggest role of her life, one with Oscar potential. When her girl-next-door fame prevents Avery from doing the in-depth research for the sensual role herself, her assistant insists on traveling to an exclusive couples resort to handle the job. But when her friend goes missing, Avery?s focus shifts from landing the role of a lifetime to finding out what happened on the sultry Caribbean island.

A weekend that could just get her killed?
Avery contacts Aegis Security and hires one of their elite operatives to accompany her to the resort. She just doesn?t expect to get former undercover FBI agent Cade Blackwell?the man who ripped out her teenage heart twelve years before. Avery?s a good actress. With a little work and a convincing disguise, she?s confident she can fool the staff at the resort that they?re a real couple. The question is?can she fool Cade? Because one weekend at the sexiest resort in the world with the only man she?s ever loved won?t just put her heart on the line. If she?s not careful, she could lose her life in the process.



**Please Note: this book was previously published as First Exposure by Elisabeth Naughton.
Christmas Wishes: A Small Town Christmas Love Story
Molly absolutely loves Christmas. Candy canes, egg nog, mistletoe, the works. She can?t get enough of it. And so it?s only natural that she works at the local Christmas store, Christmas Wishes.

But when the Scrooge-like Nicholas comes to town, looking to sell his father?s business out from under him, it looks like Molly?s dream job is disappearing. Worse yet, she?s starting to fall for Nicholas, despite everything telling her not to.

With one last chance to save the store, Molly appeals to the power of Christmas itself, attempting to convert Nicholas to seeing the beauty of the holiday. Can Christmas magic really make Christmas Wishes come true?

Fans of Hallmark Christmas movies will be swept away by Christmas Wishes, a small-town standalone holiday romance with mistletoe and magic. Grab a glass of eggnog, sit by a warm fire, and enjoy!
A Christmas Caper (Sugar Martin Vintage Cozy Mysteries Book 3)
With Christmas fast approaching and her bank accounts woefully low, Sugar Martin is spending her first holiday in Meres Reach, England instead of back home in Oregon. When the festivities are interrupted by an urgent call from her employer, she heads straight to London with Tippy in tow only to discover that her great-great-aunt Euphegenia has left her a final bequest?and a mysterious mission.

Christmas is a time for magic and miracles and Sugar will need both if she?s to succeed in her quest.

This charming Christmas cozy mystery is the third book in the Sugar Martin Vintage Cozy Mysteries set in post-WW2 England.

Monster's Mercy
An existence spent being forced to kill others to satiate a Monster.

Where the only thing to look forward to was the blessed, if brief, period of time between paying that bribe.

Except that very same Monster is and isn?t Rene.

It just happened to live inside his own mind and force him to do what it wanted. Rather than being an actual Monster.

That was Rene?s entire life until a fateful day changed that.

A day that the career as a hitman for hire built on the Monster?s needs will end. Where Rene will be forced to atone for his actions. To be held accountable and judged.

Except the verdict is already long since passed and needs no deliberation.

His sentence was being sent hundreds of years into the past, into a different world even, where he must live a life for the betterment of others. Every action judged as it happens and weighed out against him.

But even this new idyllic life he?s been living in for eighteen years is about to go off the rails and Rene will be forced back into a life lived in the underworld.

Armed with a few gifts granted to him by the one who judged him, gifts better suited to a fantasy about living in a video game, Rene has to maneuver his way back to his new life while using all the things he?d learned in his old one.

Except using those skills is a double-edged sword. If he?s not careful, he?ll end up right back where he started.

Dead and on his way to hell.

Warning and minor spoiler: This novel contains graphic violence, undefined relationships/harem, unconventional opinions/beliefs, forced political marriage (and consummation), and a hero who is as tactful as a dog at a cat show. Read at your own risk.
Her Vampire Prince (Midnight Doms)
Cari
How hard is it to die?
Don?t ask me. I?ve been failing at it for a year.
My father lost his life in a fatal car wreck while I walked away without a scratch.
Now I taunt that bastard Death on a daily basis.
Volcano hopping. Street racing. Skydiving.
But then Death comes for me.

Hadrian
For centuries, I?ve been a dead vampire walking.
No warmth, no feeling. No reason to live.
Then she bursts into my life.
A mortal daredevil with a carefree laugh.
She literally falls from the sky and into my arms.
She?s got a death wish and I?ve got a hunger only she can slake.

She?s my prey, but she wants to leave?
No way. She?s mine. And I?m never letting her go.
The Miracle Man (Romantic Traditions Book 650)
Get swept up in this classic romance story from New York Times bestselling author Sharon Sala.

More than anything, Antonette Hatfield wanted a baby. But she?d long since given up on Mr. Right. He simply didn?t exist. So rather than marry a good man, Toni planned to bear a good man?s child. No strings attached. Then he washed ashore?the nameless answer to her every prayer?

US Marshal Lane Monday had survived one close call, only to find himself in another quandary. The most exciting woman he?d ever met?the woman who?d saved his life?was offering him safe haven?in her bed. But pleasure without price wasn?t Lane?s style. He knew all too painfully that the consequence of getting involved would be falling in love. Especially when he discovered Toni?s plan.

Originally published in 1995
Deadly Encounter (Aegis Series)
From New York Times Bestselling Author Elisabeth Naughton, a dangerous story in her Aegis Series

One chance encounter?
He?s been watching her?from the slopes, in the restaurant?and now he?s here, in the dimly lit bar of the swanky Vail resort, pretending not to notice her from across the crowded room. Songwriter Grace Ryder has never liked the spotlight, but her skin tingles whenever his mysteriously sexy gaze drifts her way. His muscular body may be built for danger, but those tempting lips scream sweet relief. Only one night will prove whether he?s safety or sin.

?could just get her killed.
Aegis operative Brian Walker?s orders are clear: observe, but don?t touch. Grace Ryder is off limits in every way possible. Things change, though, the moment the leggy brunette makes him an offer he can?t refuse. Desire leads to seduction and one night that will test both Brian?s personal and professional limits. And though his cravings win out, the cost could be more than he?s ready to accept. Because lurking in the shadows, someone?s waiting for the moment to strike, and if Brian?s not careful, his obsession for a woman he never should have touched could get them both killed.



**Note: This book was previously published as Sinful Surrender by Elisabeth Naughton**
Power Nexus (Vorcian Imperial Chronicles Book 3)
Expected to be a Healer. Destined to be something else.

All of the Waterns of Barkin Prime have been Master Healers, a legacy that runs back hundreds of years. Corda, the eldest daughter of the house, does not expect to break that pattern, but the universe has different plans for her.

The events that help shape the woman that will become an essential part of the Vorcian Imperium are powerful.

Just like the adult that she is destined to be.